"I believe the phrase is: Do you mind if I borrowed your newspaper?"
Adam Pierson
Methos Chronicles
Methos Fandom
Read the disclaimer. Talk about this page on the Methos message board. Contact the webmaster. Stuck in a frame? Break out!
Fans for a Methos TV series campaign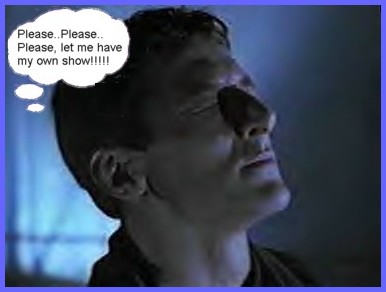 No doubt spurred by The Methos Chronicles Flash series and, to a lesser extent, Highlander: Endgame, the campaign to bring our favorite 5000-year-old back to live-action TV has begun anew. Still in the early stages, the campaign currently has a bare-bones website and YahooGroups mailing list where it looks like a letter-writing campaign is being organized.
Another fan is contributing to the effort with a hilarious web page of captioned pictures (like the one above) depicting how much Methos and Joe want their own show.
Updated 15 July 2001

Recent news
Methos
Fans for a Methos TV series campaign (updated 15 July 2001)
The Methos Chronicles on iFilm (updated 14 July 2001)
Methos Collectors Package (2 May 2001)
Highlander (general)
Highlander new series and film rumor roundup (updated 15 July 2001)
More Reunion con guests added (updated 14 July 2001)
More on Highlander, the online game (updated 22 June 2001)